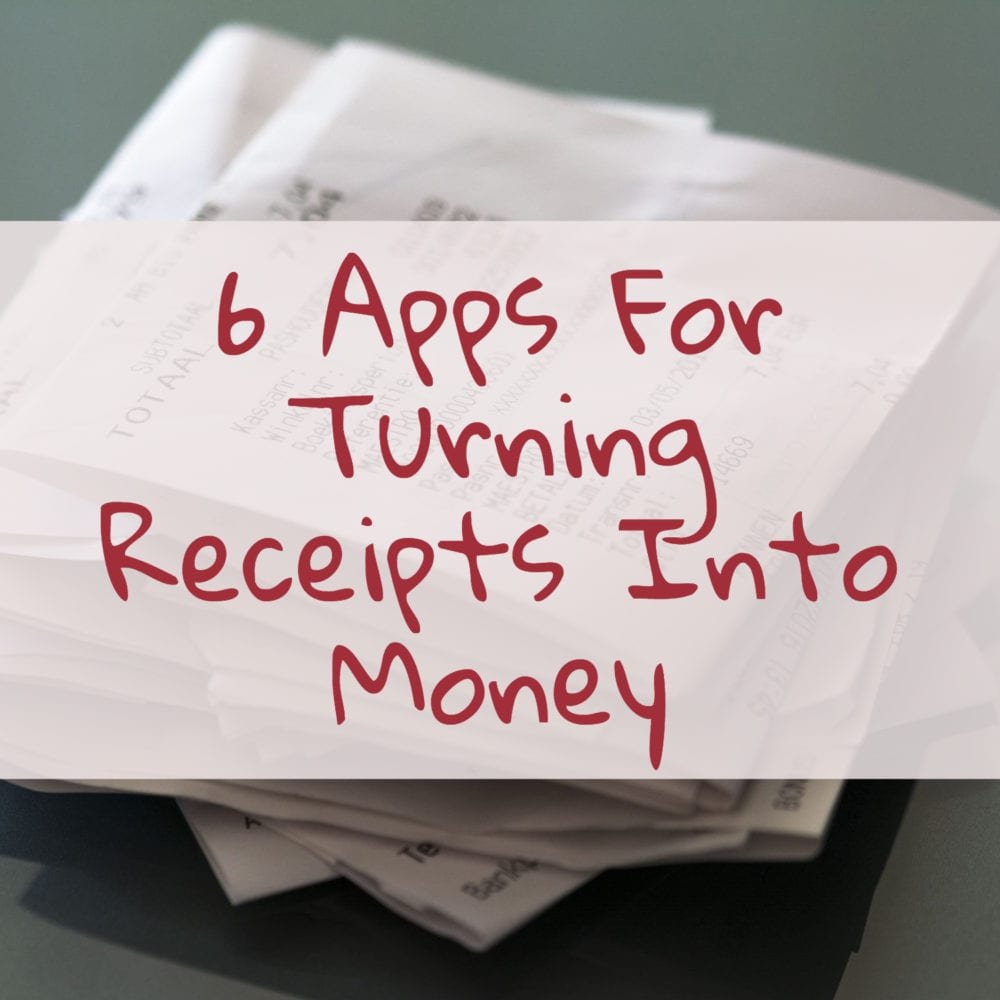 Before chucking away any paper receipts, just remember that most receipts can be turned into money using mobile apps and it's an easy way to make a bit of extra cash. In this blog post, I will be giving details of 6 different mobile apps for turning receipts into money, all of which I use myself.
All the apps are simple to use and the same receipt can be used across all of them. Within each app, you need to upload a photo of the receipt in order to gain rewards.
So far I have earned £215 from my receipts, including a £70 prize, plus I have won a couple of physical prizes too from using the apps. You may also want to check out other mobile apps for making money.
When taking a photo of the receipt, make sure you include the store name, purchased items, purchase date and transactional total.
Tips For Uploading Receipts
All but one of the apps has a max receipt age of 7 days old, so I recommend uploading receipts within the 7 days, but preferably on the purchase day because some apps may give out higher rewards.
I tend to upload only 5 receipts in a day because that's the daily limit of Shopprize and so it's easier to keep track of which receipts have been uploaded.
I find it easier to open one app at a time, upload up to 5 receipts, then move on to the next app and repeat with the same receipts.
Don't forget that some of the apps allow you to upload e-receipts from online purchases.
Storewards
Receipt Hog has now shut down, but don't worry because it has been replaced by a similar, but even better app called Storewards.
If you were using Receipt Hog before, unfortunately you can't transfer any unredeemed coins from Receipt Hog to Storewards, however, you can receive up to 10,000 coins in Storewards, if you sign up with the same email address used for registering with Receipt Hog.
Unfortunately, Storewards have currently stopped new members from registering. I emailed Storewards and they replied saying they "will probably open to other users soon, but as of the moment, we do not have a timeframe when registrations will reopen". I myself missed out on registering and so I'm hoping it won't be long before the rest of us can sign up too.
Each valid receipt uploaded is worth 600 coins. You can also get 1000 extra coins for each referral you make and an extra 250 coins when they sign up.
Max Receipt Age: 14 days old
Receipts Accepted: Most receipts accepted (in-store and online)
Uploading Limits: 5 receipts per day and a maximum of 20 receipts per week
Minimum Redemptions: 20,000 coins = £2 Amazon Voucher. PayPal cash out available too
Available on: App Store & Google Play
My Earnings: Not registered yet
Extra Note: Open the app daily for a daily bonus (up to 100 coins)
Get the Storewards app
Shopprize
I really like the Shopprize app as it's seems to be the quickest for cashing out, especially if you visit the app daily to get free coins and don't enter any comps. Plus, you could even cash out from accumulating the daily free coins, without even uploading receipts. They have daily sweepstake's you can enter and often include Amazon vouchers. So far I've won two prizes and received £65 in Amazon vouchers.
Max Receipt Age: 7 days old
Receipts Accepted: Most receipts accepted (UK only)
Uploading Limits: Daily Limit of 5 receipts
Minimum Redemptions: 10,000 coins (84 receipts) = £5 Amazon Voucher
Available on: Google Play
My Earnings: £75 Amazon vouchers + Burts Bees Skincare Set + iPod Docking Station Speaker
Extra Notes: Open the app daily consecutively to earn the maximum amount of free coins.
Get the shopprize app
Shoppix
Shoppix is a nicely laid out app in which you collect tokens for receipts. You can win extra tokens via scratchcards, which become available after completing surveys or by snapping receipts in consecutive weeks.
Max Receipt Age: 7 days old
Receipts Accepted: Goods or services paid for within UK (excludes travel, ticketing, hotels or financial services)
Uploading Limits: Weekly limit of 30 approved receipts and daily limit of 1 same store receipt.
Minimum Redemptions: 3200 tokens (107-128 receipts) = £5 PayPal or £5 Amazon, iTunes or Love2Shop vouchers
Available on: App Store & Google Play
My Earnings: £10
Extra Notes: Weekly prize draws – every monday 8am. Earn extra bonuses by moving up a shelf.
Get the Shoppix app
Huyu
The Huyu app may take a lot longer to reach the minimum withdrawal threshold compared to the others because the receipts are limited to supermarkets only. The Huyu referral scheme has currently stopped.
Max Receipt Age: 7 days old
Receipts Accepted: Only supermarket receipts valid (including online) 
Minimum Redemptions: 500 points (100 receipts) = £5 various e-giftcards including Amazon, iTunes, Starbucks etc.
Available on: App Store & Google Play
My Earnings: £5
Extra Notes: Complete surveys to earn extra points
Get the Huyu app
ZipZero
The ZipZero app is different to the other receipt apps because instead of receiving cash or vouchers, the money you earn helps to pay your utility bills, such as water, electricity, gas, mobile phone, internet, TV, and council tax. There is also potential to earn well using ZipZero because you earn 1% of each receipt total, up to a monthly limit of £50.
Max Receipt Age: 7 days old
Receipts Accepted: Most accepted (Only UK shops)
Monthly Earning Limits: £50
Minimum Redemptions: Available balance must reach £5
Available on: App Store & Google Play
My Earnings: £10 off phone bill
Extra Notes: When adding a biller, add the bills details, not your own bank details.
Get the ZipZero app
Snap My Eats
Even though SnapMyEats is limited to food receipts, it's potentially one of the quickest earning apps if you spend on food and drink regularly, with £1 being earned per 3 valid receipts.
Max Receipt Age: 7 days old
Receipts Accepted: Food and drink retailers or restaurants (UK only)
Uploading Limits: 15 receipts per month (extra receipts will gain sweepstake entries)
Minimum Redemptions: £10 Amazon Vouchers (£1 per 3 receipts)
Available on: App Store & Google Play
My Earnings: £10
Get the SnapMyEats app
You can also upload your receipts to the app CheckoutSmart, for a chance of winning £10 every day that you upload a receipt. CheckoutSmart can also get you cashback, sometimes 100%, from purchases made at supermarkets. Click here for further info on the app.