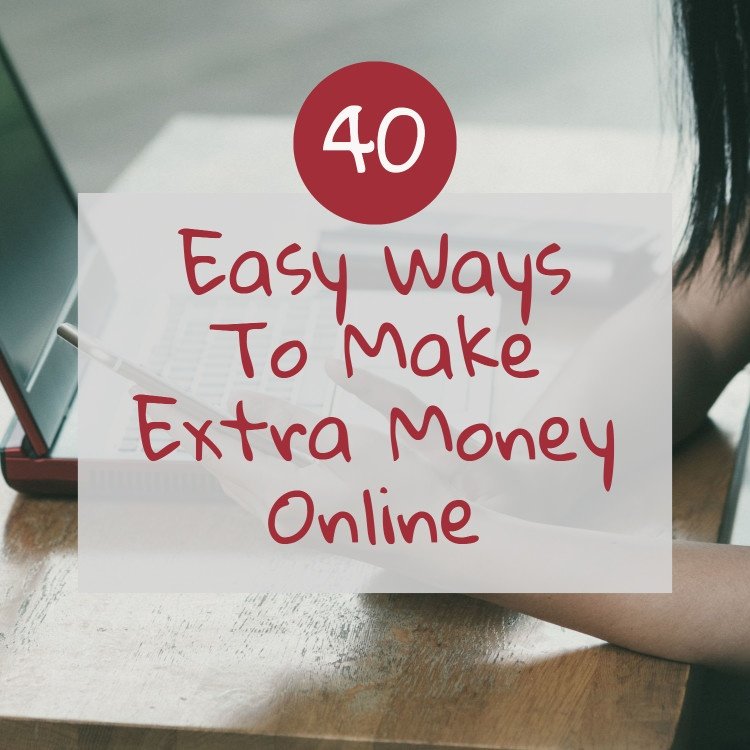 *This post may contain affiliate links, which means I may receive commissions if you choose to purchase through links I provide (at no extra cost to you). Thank you for supporting the work I put into this site!

Welcome to MoneySkipper's comprehensive list of 40 easy ways to earn extra money online. You can pick and choose which different money making methods you would like to try and which ones work for you the best. I recommend combining different methods in order to maximise the amount you can earn. Some will be undoubtedly easier to undergo then others, whilst others may require more time, but with greater rewards.
Earning extra money online is great for boosting your savings; paying off your debts, or simply having more spending money. Whatever your reason for doing so, I hope this page can help you in some way. To look into each subject further, there will be a link to another page with more details. Some of the links are from other blogs, however I do hope to create more posts in the future giving more details to each subject myself. 
1 – Free Money Offers
A lot of sites and companies give out free money, free shares, free products or discounts, as an incentive to sign up to their services and its a super easy way to earn some extra money. Sometimes its as simple as signing up for free. Check out how to get over £1000 worth of free money from sign up offers (updated regularly).
2 – Matched Betting
Matched betting is a way of making quick, easy tax-free money. It's legal and is not classed as gambling when doing the risk-free offers. Matched betting has been my most successful online money earner to date and I couldn't believe it when I made £936 within my first month.
To find out more info, check out my matched betting page or sign up for a free trial with Profit Accumulator to earn around £45-£60 from the first two offers, with easy to understand step-by-step instructional videos. Once completing these, you can then decide whether it's the right money making method for you.
3 – Cashback
Earn money back as cashback when making purchases. This is a great method for saving/making money and should be used every time you want to make a purchase, online or offline. There are a variety of cashback sites and apps available, but TopCashback and Quidco (Get £10 free sign up bonus) are the main ones. Click here For a list of further cashback sites and apps to use, including how to win 100% cashback with Boom25.
4 – Free UK Lotteries
Get a chance to win free money daily by playing the free UK lotteries. The sites can give out free money by giving away a percentage of their ad revenue generated through their site.
I religiously check all the sites daily, and from doing so, I have been lucky enough to win over £370 worth of free money.
Click here for a full list of free UK lotteries
Click here for a list of free international lotteries
5 – Selling Your Videos
Anyone can make a bit of extra money from selling their own video content, whether it was filmed on a phone, camera, or other device. The video doesn't even need to be the best quality.
If you have a video that's worth viewing by others, such as a funny video, an interesting moment, wildlife encounters, etc. then you can upload them to a video licensing agency, such as Newsflare, which helps to distribute and sell your videos to well known TV shows, networks and other worldwide media.
Since joining Newsflare, my Ostrisch Dancing Video has sold 5 times, earning myself £346.50.
Find out more info on making money selling your videos online.
Sign up to Newsflare via this link to get £10 extra, after selling your first video
6 – Online Surveys
Getting paid to fill out online surveys is a simple way to make some extra cash and can be good for doing whilst chilling on the sofa, watching TV, or when you have a bit of spare time. Panelbase.net (get a £3 sign up bonus) has been one of my favourite survey sites and Prolific Academics is a very popular one too. Some other survey sites: OnePoll (£2.50 bonus), Street Bees (Referral code: 7792K7), Branded Surveys, Qmee (free 50p bonus)
I struggle to have the patience for filling out long surveys that take time, however there are many survey sites available, so shorter surveys (including 1 question surveys) can be completed too. Check out a list of some of the online survey sites here.
7 – Domain Name Selling
Not everyone may realise this, but there is an online market for buying and selling domain names (website addresses). From selling just one domain name, which can cost less then £5, you can potentially earn hundreds, thousands or millions, with very little effort involved. Find out how to sell domain names here.
8 – Earn From Receipts
There are 6 mobile apps I use for turning receipts into money. It's a simple and easy process, by which you take a photograph of each receipt on each app, in order to gain points, which can be redeemed for cash or vouchers. You can also win cash and other prizes on some of the apps too. So far, I have made £200 from my receipts, so think before you chuck your receipts in the bin.
All the following apps are free to use. Click here for more information about each app and how to earn money with them. 
Storewards – Replaced Receipt Hog
You should also check the bottom of your receipts because some shops, such as supermarkets, will list a giveaway you can enter by submitting a review.
9 – Copying Professional Traders
eToro is a trading platform with a unique feature called 'CopyTrader', which allows you to allocate some of your funds to automatically copy someone elses's trades. So you can search for a successful, reliable trader, click copy, then sit back and let the professionals do all the hard work for you.
CopyTrading with eToro is basically like having a bank account with the potential for amazing interest. Find out more info about eToro and CopyTrading.
Disclaimer: All trading involves risk. Profits are not guaranteed. Only risk capital you're prepared to lose. This is not investment advice.
10 – Get Paid To Exercise
Earn free stuff, just by walking and staying fit with the mobile app Sweatcoin. It rewards you for walking, inside or outside with sweatcoins, which can be redeemed for free products, free trials or even cash. Check out how i got over £600 worth of freebies using sweatcoin.
There are also some other similar apps to Sweatcoin, that pay for exercising, which I will be testing out. This includes LifeCoin and Runtopia. Even more fitness apps can be found on this blog post: https://thisonlineworld.com/fitness-apps/
11 – Selling Photos Online
If you enjoy taking photos, you may be interested in selling your photos on stock photography sites to earn some extra cash. Stock photography sites include Alamy, Adobe Stock, EyeEm, Picfair and Shutterstock.
Each site has there own terms and comission rates, which means you only receive a percentage of each photo sale/download. Sometimes you can earn a higher comission by making the photo exclusive to that one site.
You can upload the same image to multiple sites to boost your chances of a sale. Each image you upload can be sold unlimited times and so acts as a source of passive income. Check out Save The Students guide to selling photos online or 20 websites for selling your photographs.
12 – Get Paid Browsing Online
Get money for the ads you see when browsing online using Gener8. All you need to do is download the browser extension, then you will earn tokens whilst browsing normally. The more tabs you open and the more ads you see, the more you will earn. Tokens can be redeemed for discounted products or e-gift cards, such as Amazon vouchers. 
Get 10 free tokens worth £1 by signing up to Gener8 via this link
13 – Enter Free Competitions
So this may not be a guaranteed method of making money because winning a competition is often down to chance, but if you enter enough and put in the effort, you are more likely to win something. Plus, you may only need one lucky entry to win big. When I was a kid, my Dad was lucky enough to win £10,000 from a magazine competition, which helped to pay for an amazing family holiday to Florida. So you just never know when you may luck out. I've also won a few things myself too, including £150 (Real People Mag), £100 (Take a Break Mag), Doc Martens 1461 – worth £90 (Tower London), music dock, plus some other products.
If you want some more comping inspiration and tips, then check out Di Cokes's Competition Blog. Over her 20 years of comping, Di has won over £300,000 worth of prizes.
There is a whole variety of competitions and prizes, so you may want to focus on prizes that are suited for you, because there can be an overwhelming amount of comps to enter. I mainly stick to cash prize comps or high budget items, such as holidays, but you could always enter product related prizes too. Besides, there is always a chance of selling the items on. I sold my Doc Martens on eBay after winning them.
There are many different sources you can use for entering competitions including:
14 – Sell Your Designs On RedBubble
If you want to run your own online shop for free, selling things such as clothing, stationary, accessories, wall art, stickers, etc, then RedBubble may be a good place to start. It is great for any artists or designers to sell their artwork. Redbubble is a print on demand service, that enables you to sell your own designs onto a multitude of products. You can select the products you want to have your designs displayed on, choose your own prices, then RedBubble will do all the rest of the work for you, including production and delivery. 
The only downside to selling on Redbubble is the impact on how much profit you can make because the production costs need to be accounted for. However, you do have control over the amount of profits you make, by adjusting your listing prices.  To find out more info, check out Michael Essek's very informative post How To Sell On Redbubble (& Actually Make Money).
I currently run my Slothing Out store on RedBubble selling sloth related products. I use to have my own Shopify store, however the costs were no longer viable for me, so I moved my designs to RedBubble to make it completely free. If you love sloths then you may like my designs or products, so go check them out. Any sales or support would be greatly appreciated.
15 – Task or 'Get Paid To' Sites
There are variety of task sites, also known as 'get paid to' sites, which reward you for performing different tasks, such as completing offers, surveys, entering competitions, watching videos, playing games, etc.
For each site, you will have to accumulate enough points or money before you can withdraw, but the threshold will differ between the sites. Some of the sites offer sign up bonuses too, which helps to reach the withdrawal threshold quicker.
Here is a list of the some of the task sites, including:
Oh My Dosh (£1 Welcome Bonus)
20Cogs (£5 Sign Up Bonus)
InboxPounds (£1 Welcome Bonus)
Swagbucks
Toluna
16 – Become a Blogger
Creating a website or blog can be a great way for earning income, especially as there are different revenues you can use together for generating money. This can include ad revenue (I use media.net), affiliate marketing (e.g. Awin), sponsored posts, or even selling products.
When creating a blog, it's probably best to focus on a subject that you are interested in, or knowledgable about. This is so that blogging doesn't become a chore, plus your enthusiasm will show in your work if you generally get excited about the subject, thus making the reader more engaged.
You may start a blog as a hobby or a side hustle, but if it becomes successful, then you may end up earning enough money to quit your job and become a full time blogger, which was the case for Emma Drew. Check out her great post on how bloggers make money.
17 – Freelancing
If you have a passion or talent for something, then you may be able to utilise your skill set by selling your services on Fiverr as a freelancer. There are many different sections on the site to choose from, including Graphics & Design, Digital Marketing, Lifestyle, Music & Audio, Programming & Tech, etc. You can even set your own prices and terms of your offer and complete the jobs within your own time. 
I hired freelancers myself on Fiverr for creating my MoneySkipper logo and for creating all my sloth t-shirt designs for my Slothing Out store. As there name suggests, some freelancers offer just $5 for their services, which means it can be a good place for buyers to get cheap deals.
Get 20% off your first purchase at fiverr, up to $100 using my referral link
There are more freelancing sites in which you can list and sell your services on too, including:  Upwork.com, People Per Hour, or Freelancer.
18 – Money Making/Saving Browser Apps
I have quite a few browser apps installed in my google chrome that either help to make money or save money. All the apps are free to install too, so it's easy free money. Once the apps are installed, they run in the background when you are online and get triggered automatically when browsing, so there isn't much that the user has to do.
You can earn a bit of money when making searches online with Qmee. Increase your earnings with Qmee by completing surveys too or via referrals. Sign up to Qmee and get a 50p free bonus on your first PayPal cashout.
Honey is a great browser app to download because it takes away the hassle of finding online coupon codes. When shopping online, Honey will automatically apply any available coupons or discounts upon checkout. You can also earn Honey Gold whem making purchases. Once you've earned 1300 gold, you can redeem it for a £10 giftcard.
As previously mentioned in number 12, Gener8 is another browser app in which you can earn from the ads you see when browsing.
To be notified of whether an online store is eligible for cashback (see number 3), you can download browser apps for some of the main cashback sites, including Quidco and TopCashback.
Search Lotto is an app that you can use for making online searches, just like Google. After performing 25 searches with search lotto, you get rewarded with a FREE Lotto or Euromillions syndicate ticket. Only 20 unique searches per day will count towards your syndicate entry. A maximum of 4 syndicate tickets can be issued to a user each week. Search Lotto is also available on mobile devices as an app.
19 – Affiliate Marketing
Affiliate marketing has the potential to earn you thousands of pounds every month. Not only that, but the money you earn from affiliate links can turn into passive income, which means you can continue to get payments without putting in extra work. The basically principle of 
Awin is the UK's largest affiliate network and the one I use the most. Other networks you can use as well, includes:
Tradedoubler
MaxBounty
Skimlinks
Amazon Associates
Sovrn//commerce (formerly VigLink) is another useful affiliate network because you can quickly create an affiliate link from a site using their 'Anywhere Bookmarklet' tool, as long as the site is registered with Sovrn. It also saves you from having to join affiliate programmes individually.
Skimlinks also works in a similar way to Sovrn, however it also has an extra feature that will automatically turn all your commerce links from your blog into affiliate links. All you need to do is install a piece of code onto your website.
Emma Drew runs a top UK money blog and has earned £5195 in just one month, solely from affiliate links. Check out her guide to getting started with affiliate marketing.
20 – Selling Your Unwanted Items
If you have lots of unwanted items laying around your house, or your looking to make some extra money; there is a whole range of sites that you can use for selling your items on. You can list your things for sale for free on the following sites, including:
Gumtree
Preloved
Sphock
Amazon Marketplace
Depop – Selling Clothes (pay 10% once sold)
Facebook Selling Groups

Or you can choose to sell via eBay, which is the biggest online auctioning site, but there are often fees involved when selling on there. This may be worth it though because you may get a higher selling price, in comparison to the previous apps.
If you have a collection of CD's, DVD's, Games and Books, then an easy way to get rid of them, whilst earning some extra cash, is by sending them off for free to Music Magpie. You can also make even more money by recycling your old phone with Music Magpie.
21 – Money Making Apps
A lot of people spend a lot of time being on their phone, so why not make money from using apps downloaded to your phone. There is a variety of unique apps available. I will list some of the apps I use on my phone below. More info about the apps, plus extra apps, visit the money making apps page.
Hold – Get paid for not using your mobile phone (made to stop students procrastinating). You can exchange points you earn for goods, services and freebies. This app is currently only available in UK and Norway.
MobileXpression – Earn Amazon vouchers in the background for simply having the app running on your phone for research purposes (uses battery life and data). Earn £10 within the first week of downloading the software. Beware that they may stop giving you rewards, so just using it for the first week or month could be an option.
Mobilio (Use code p4nr5o to get 50 bonus points) – Earn points for not using your phone whilst driving. Points can be converted into mobilio currency, which can hopefully be used as a cryptocurrency for making purchases in the future.
Mistplay – Get paid for downloading and playing games on your phone. You get 200 welcome points and you can redeem your points from as low as 400 points for a 50p Amazon Gift Card.
Airtime Rewards – I highly recommend getting this app because it takes like no effort to make a bit of passive income. You simply download the app, sign up, connect your cards, then there is nothing else left to do. Your balance automatically increases each time you spend on your connected cards at corresponding shops. Once you reach a minimum threshold of £10, you can use your credit to pay towards your phone bill.  
Snatch – This is a free augmented reality treasure hunt game, similar to that of Pokemon Go. Instead of catching Pokemon, you pick up virtual parcels, which must be kept for 6 hours. At the end of the time period, the parcels reveal a reward or prize. If you catch a golden parcel, it will contain a cash prize. During the 6 hour waiting time, other people playing Snatch can try and steal your parcels, hence the name of the game. Receive 1000 free coins by signing up via this link.
22 – Online Casino Free Spins & Bonuses
I'm not endorsing gambling, but many online casino's offer an incentive to sign up to their site, which often comes in the form of free spins or bonuses. The great thing about most of these offers, is that no deposit is required in order to receive the free spins or bonuses. Sometimes the catch is that you may need to wager through a certain amount, of either your bonus or winnings, or the prize amount may be capped. Some sites also give out regular free spins and bonuses, which gives you an extra chance for winning money.
In the past I've won quite a few smaller amounts, but I did also win  £300 from one offer once, which I was super happy about. I often win free spins from playing the daily free tournament game on The Phone Casino. Other sites such as Mecca Bingo, Sky Bingo and Buzz Bingo often have free daily promotions too, with chances of winning free spins, bonuses, free bingo, cash prizes, etc.
Check out Bonus Accumulator for receiving details of regular casino bonus offers and sign up offers. This site will help you maximise your potential winnings. Bonus Accumulator was created by the makers of Profit Accumulator, which is a site I highly recommend for matched betting. 
Casino.org is another good site that gives a handy list of current free spins offers, whilst giving the useful details, such as wagering requirements, max withdrawal, period of expiry, etc. 
23 – Free Bingo Offers
Just like online casino offers, as mentioned above, there are many opportunities for playing free bingo and getting the chance of winning free money. I spent a period of time a while ago, where I signed up for every no deposit free bingo offer. Obviously winning anything was down to chance, so I didn't win from a lot of the sites, however I did still make some profit for free. Check out onlinebingo.co.uk for a list of free bingo offers.
One of the catches with free bingo sign up offers, is that you will often have to deposit before being able to withdraw your winnings. Depending on the site's deposit terms & conditions, you may be able to withdraw your winnings alongside with your deposit immediately, however you may have to wager your deposit amount before being able to withdraw. 
You can also get bingo sites with no wagering bonus offers, which often needs an initial deposit, so only pay what you can afford to lose. Even though these offers aren't free, they are sometimes better then the no deposit offers because your deposit is often boosted by a certain percent, even up to 700%, plus any winnings are often withdrawable, without any wagering required. tombola's sign up offer is a great example of this. You can deposit £10-£25 to get £20-£50 bonus money free, which gives you up to £75 to play with. No wagering is needed and winnings can be withdrawn. For more benefits of tombola, read 13 reasons why you should join tombola.
Other then free sign up offers, some bingo sites do offer free bingo rooms, which may be available at certain times, days, or during promotional periods. Or you may win some free bingo by playing free daily promotional games that can be found on sites, such as Sky Bingo, Mecca Bingo and Buzz Bingo.
24 – Listen To Music For Money
Reviewing music of unsigned bands and artists on Slicethepie for money, could be the perfect side hustle for anyone who loves music. The better your reviews, the more money you will earn, but don't expect to make lots of money because the payouts can be really low. Your feedback on tracks, clothing and lots more goes directly to help artists, record labels and brands make decisions. With the Slicethepie referral scheme, you will receive 20% of all the referees review earnings for 60 days and 10% after that! Check out Save The Students guide for more information.
Another app you could try is called Current, which pays you just for listening to music. So rather than paying for a music streaming service like Spotify, you could get paid instead. You can also increase your earnings by completing tasks & offers, sharing opinions, watching videos and referring people. Points can be redeemed for cash via PayPal, products, Google Play gift cards or Bonus Buck gift cards.
25 – Write and Publish an eBook
Did you know that anyone can write and publish an eBook onto the Amazon Kindle Store. You don't have to be a professional writer and you could write about anything you like, whether that's non-fiction or fiction. If your a blogger, you could even turn your blog posts into an eBook.
Once you your book is published, it could become a great source of passive income, as you will earn 70% of each book sale. You can also list your book at your own set price. For extra help, ironically check out this eBook about how to make an eBook called How to Write a Nonfiction eBook in 21 Days – That Readers LOVE! or read this blog post created by Hayley from Disease Called Debt: How To Make Money Writing and Publishing eBooks.
26 – Sell Your True Life Story
Do you have an inspirational or amazing true life story? If so, then you may have a chance of turning those stories into money. This is because Newspapers, magazines or news companies, are always on the lookout for new stories to publish. 
There are a variety of types of story that might sell including, animal stories, crime stories, health stories and emotional stories. Find a bigger list of wanted stories on Feature World. 
The prices for a story can vary a lot and be dependant on the story and the buyer. You may receive between £200 – £2000, or higher for exceptional stories. There's also a chance of making more money if your story sells to multiple sources. However, some newspapers may forbid you from selling your story to other publications. For a better chance of overcoming this problem, you could sell your story via a press agency, such as National Story, Feature World, PA Media and Sell Your Story. These agencies take a percentage of the your fee, however, you still might earn more because they have the contacts and the expertise to  sell your story for the highest price and to multiple sources. They can also help with the legal contracts too.
If you don't want to use a press agency, an alternative way to sell your story is by contacting newspapers or magazines directly. Some papers, such as The Mirror and The Sun, have dedicated emails for selling your stories. Some magazines, such as Take a Break have a dedicated page for submitting your photos, which will earn you £40 if posted. The Story People is a site specifically for submitting your story to the magazines Simply You, that's life and Take a Break. You may also want to check out Money Magpie's 3 ways to make money by telling your real-life story and Skint Dad's 15 Places to Sell Your Story.
Note: Before you sell a story, make sure you will be comfortable with people reading it and be prepared for potential negative reactions.
27 – Review Websites
If you enjoy browsing the internet or going on websites, then getting paid to test and review websites may be a good side hustle for you. Reviewing sites helps to improve the quality of the internet by giving feedback to the website owners.
UserTesting.com is a site that pays you to review websites, by performing tasks, whilst speaking out loud into a microphone. To sign up, you need to take a sample test first. Each website review takes around 20 minutes to complete, which can earn you about $10 (£6.50). You can withdraw to PayPal after earning a minimum of $10. 
IntelliZoom Panel is another similar site, which pays via PayPal within 21 business days after the completion of a study. The average payment for a standard survey is $2, whilst a video review is $10. The higher the quality of your completed tasks and reviews, the more tests that you will be offered.
28 – Switching Banks
This is not a way of making a steady income, but it is a quick and easy way to gain an extra £100 or more in one go, without really doing anything. A lot of banks will offer you a lump sum of money just for switching to their bank. Check the terms and conditions for each bank because to be eligible, you will have to transfer over a number of direct debits and have a certain amount of money coming into the bank each month. The switching process is an easy process and is handled  by the banks.
My main account is with Nationwide, which means I am able to recommend people to join Nationwide and in return you will receive £100 after 3 months of keeping your account open. You also need to transfer at least 2 direct debits. For more details, check the Nationwide Recommend a Friend page. If you are interested, email me at [email protected] so I can start the process for you.
Check around to see what other banks offer for switching and which one will benefit you the most in the long run. 
29 – Switch Energy Suppliers
Switching energy suppliers is not an ongoing source of income, but it is a great way to save money on your energy bills. A lot of companies offer a sign up bonus or a referral scheme, so you may be able to make extra money by referring friends and family too.
If you want to take out the hassle of searching for the best energy deals and handling the switching process, then signing up to Look After My Bills is a great option for you. They have advanced algorithms that automatically switches you to the best energy deal they can find every time your deal ends, as long as it saves you more then £50 a year. After signing up, you don't have to do anything further. 
When signing up to Look After My Bills, if you switch both gas and electricity through this referral link, then you will get a £20 voucher, but if you switch electricity only, you will only get a £10 voucher
30 – Create An Online Course
If you have a good amount of knowledge on a certain subject, or have a talent or skill, then you could take advantage by setting up your own online course with Udemy and teach people worldwide. Firstly, you would create your own video course, either with a camera, webcam or screencasting. Then you will get paid every time someone purchases your course. Payments are made monthly via PayPal or Payoneer. If your course is popular, it may become a good source of passive income.
Another alternative to setting up an online course, is becoming an online tutor. You can list yourself on sites like UK tutors and Superprof. You could earn over £20 per hour and be your own boss.
31 – Peer To Peer Lending
Peer-to-peer investing is becoming increasingly popular as it can provide returns that are higher than savings and more stable than stocks and shares. With Rate Setter, You can earn an annual fixed rate up to 4%, depending on how long you invest for. If you choose to open up an ISA account, you can earn tax-free interest. For more information, visit Rate Setter.
32 – Enter Photo Competitions
Other then making money from your photos just by selling them via stock photography site (see number , there is another way to increase your profits. There are some mobile apps that host photo competitions and challenges. Simply take your best shot that relates to the challenge or category, then submit it via the app for a chance of winning. If your photo gets chosen as a winner, then you will receive the stated cash prize, which may vary per challenge/competition. These are a few of the apps you could use:
If you take professional, quality shots and want to win higher prizes, then you could try your luck and enter your photos into annual photo competitions or Awards, such as the British Widlife Photography Awards, which pays out £5000 for the top prize. The prestigious annual Taylor Wessing Photographic, awards a massive £15,000 cash prize for the winner. Just note that some Check out the best photography competitions to enter in 2020. Just note that not all of these competitions are free to enter.
33 – Make Money From Social Media
Most people probably have at least one social media account, so if you enjoy being on, or posting on social media, you could turn your accounts into money makers. You don't have to be an influencer, or have the biggest following to start earning, but the more engaged followers you have, the more money you are likely to make. Below are a few of the ways to monetise your social media accounts:
Sponsored Posts: Get paid to promote a product or service.
Affiliate Links: Get a commission after a link is clicked or a product is purchased. (see number 19)
Selling Your Own Products: Build a business by setting up an online shop and selling products.
To get a sponsored deal, you may be approached directly from a brand. However, you can also reach out to companies yourself in order to try and work out a deal. Alternatively, list yourself on influencer marketplaces for a better chance of getting discovered: 
For more information, check out Make money on instagram and Make money using social media accounts – Emma Drew
34 – Sell Printables & Other Digital Downloads
Instead of dealing with inventory and shipping etc when selling physical products, you can make things a lot easier by selling online printables, such as spreadsheets, or other digital downloads. Selling digital products could be a good addition to any site or blog as an extra income source. If not, you could use social media to generate sales too. 
The type of content you sell could be anything that helps to make things easier and simpler for your customers. For example, you could create and sell a printable budgeting checklist or table. If it only costs a few pounds for a useful product, then people may be willing to pay if it, rather then spending the time to make one themselves. 
If you have a website with photos on them, you can monetise them too by using the site SendOwl, which allows people to download the image for a set price after clicking on the image. SendOwl can also be used for selling other digital products, subscriptions, physical products and more.
35 – Online Article Writing
If you enjoy writing, you can get paid to write quality, relevant online articles. There will be set criteria for the articles you write, so make sure you follow them in order to get your articles accepted, and thus paid for. Check out some of the following sites you could use for writing and creating content for money: iWriter, textbroker, Writer Access and Income Diary. You may also enjoy reading 55 websites where you can get paid to write in 2020.
36 – Transcribing Audio & Video
If you are a fast typer, then you may want to consider online transcribing. There are sites that will pay you to turn audio or video clips into text. Earnings can be around $15-36 per audio hour, so the faster you can type, the quicker you will make money. You can work flexible hours and choose your own projects, whether they are big or small. You won't run out of work either as new transcribing jobs are added to the sites frequently. Start transcribing today by visiting sites, such as Transcribe Me and GoTranscript.
37 – Become a Clickworker
If you become a Clickworker, you can get paid in cash via PayPal for doing a whole variety of online jobs, which you can choose when and what to do. You basically perform tasks that need completing for businesses quickly. The types of tasks available on Clickworker.com includes proofreading text, categorising data, taking photos, completing surveys, app testing, copy editing, plus more.
38 – Product Testing
Companies and brands often want feedback on their new products and so are willing to give away free products to consumers, in return for a product review. Some companies may even give a cash reward or some Amazon vouchers on top of the free product. There are lots of market research companies that work on behalf of the brands, which you can sign up for to begin testing products. Here are some examples:
For more info and more product testing sites, you can read Money Saving Experts post.
39 – Live Streaming
If you are confident in front of the camera or speaking out loud to listeners in real time, then you may enjoy live streaming, which you can make money from. However, the amount of money you make, may depend on the amount of engaged followers you have. There are different platforms you can use for live streaming, including YouTube, Twitch, D-Live, and Mixer.
When live streaming, you can make money in a variety of ways:
Paid Subscribers
Viewer Donations
Sponsored Deals
Advertisement Revenue
Affiliates
Merch
For more info, check out how to make money livestreaming on filtergrade.com
40 – Get Freebies
Who doesn't love anything for free? Well lucky for you, companies love to dish out free products and free samples as a marketing strategy to entice consumers to buy further products from them. You can't really make money from freebies, unless they are worth selling, however it can be a useful way of saving money or trying products before purchasing. I also find it exciting because it's like getting free presents through the post.
There are different sites you can check daily for new freebies. If you join their newsletters, you can be notified of new freebies daily by email. Check out some of the following sites: