If you enjoy walking and getting freebies, then you will probably love the mobile app Sweatcoin, which awards you for walking. It's a simple and easy to use app, which is available on Google Play and App Store. A great new feature enables indoor steps to be counted now too.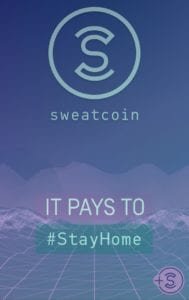 Since using the app, I have claimed £750.98 worth of products for free. For some products, delivery costs still apply; however from all my purchases through Sweatcoin, I have only paid £95.62 in shipping costs, which I think is fair enough considering the huge amount (655.36) of money saved from getting the products free. 
What I Spent My Sweatcoins On
Below is a list of all the offers and freebies I have claimed with my sweatcoins:
A free month (30 stacks) of personalised 3D-printed vitamins by Nourished (worth £40) – cost 9.99 sweatcoins and £3.95 shipping. Check out their current offer on our free money page.
3 months free trial of Tidal HiFi (worth £60) – cost was free (0 sweatcoins).
Massage Foam Roller (worth £17.99) from Supreme Shark – cost 749.99 SWC and £2.95 shipping.
Box of 8 Swisse Me smoothies (worth £14) – cost 7.99 sweatcoin and £2.99 shipping.
Yoga International 30 day free trial + premium course (worth £114) – cost was free then £12/month after.
4 capsule theanine sample (worth £4.99) by Brain Feed – cost 4.99 SWC.
Chia Charge protein bars (worth £1o) – cost £1 and free shipping in UK.
3 months free subscription of 8fit (worth £29.99)
One month of Headspace meditation app subscription (worth £9.99) – cost 1 SWC
An eco-friendly bamboo toothbrush (worth £4) from Brushbox – free
60 days of Daily Burn for free (worth £31) – free
MaxFit Resistance Exercise Band (worth $23.99) – cost 7.99 SWC and $3.97 shipping.
Variety pack of Nutrilicious snack bags (worth £5) – cost 4.99 SWC and £2.79 shipping.
45 days free trial of Bulldog Online Yoga (worth $19) – free.
Vite Naturals – 60 brain nootropic capsules (worth £25) – cost 249.99 SWC and £2.95 shipping.
The Drug.Store – Natural Jade Face Roller (worth £19.99) – cost 499.99 SWC and £3 shipping.
Human Food – 10 organic daily nutrition bars (worth £33) – cost 6.99 SWC and £5 postage.
Vitl – Personalised multivitamins (worth £14.95) – cost 4.99 SWC and £3.95 postage.
Love Corn – 10x45g bags of crunchy corn (worth £10) – cost 149 SWC and £2.50 postage.
First Energy Gum – 2 packs of caffeine gum (10 gums) (worth £9.99) – cost 99.99 SWC.
Kaytea – Two loose tea pouches (worth £10) – cost 25 SWC and £4 postage.
Vite Naturals – Box of brain bars (worth £25) – cost 50 SWC and £5 postage.
fiid nourishing pouches (four) (worth €18) – cost 200 SWC and €3.86 postage.
Verdant Alchemy – 100g bath salts  (worth £12) – cost 40 SWC and £4 postage.
Brainzyme – Focus brain supplement (worth £9.95) – cost 75 SWC and £3.95 postage.
Grown – Enhancing adaptogen neural tonic (worth £39) – cost 350 SWC and £3.99 postage.
Vite Naturals – Energy drink powder (£25 worth) – cost 80 SWC and £5 postage.
Jungle Fruits – Dried fruit snack packs (worth £4.98) – cost 50 SWC and £2.99 postage.
Zooki – Box of liposomal vitamin c pouches (worth £9.99) – cost 10 SWC and 99p postage.
Botanycl – Natural plant-based SkinClear Elixir tablets (worth £24.99) – cost 230 SWC and £2.95 postage.
Haskapa – Haskapa Superberry powder (worth £16) – cost 200 SWC and £2.95 postage.
The Little Green Orca – Bamboo Taster Box (worth £12.99) – cost 100 SWC and £5.50 postage.
Nature Provides – LipoC Vitamin C Supplement (worth £34) – cost 300 SWC and £4.73 postage.
OTC Beverages – Mixed 4-Pack of Organic Beverages (worth £12) – cost 89 SWC and £5 postage.
I often have a good amount of sweatcoins still left over, which means I'll still be able to redeem other products for free. You never know what future offers you may want to buy and so it's good to keep some sweatcoins saved.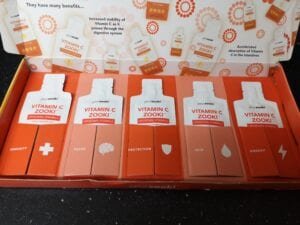 How Does Sweatcoin Work?
Instead of earning money directly, sweatcoins are used as currency within the app, which can be used to buy offers, products or cash. Some offers are free and don't cost any sweatcoins.
To begin earning sweatcoins, simply download the mobile app, register, turn on GPS and begin walking. A good thing about the app is that it runs in the background and counts your steps, so you can easily accumulate sweatcoins out and about without even being on your phone. 1000 verified steps convert to 1 sweatcoin, minus 5% commission. 
How To Get Extra Sweatcoins
With a free account, you can only earn up to 5 sweatcoins per day or up to 150 per month. However you can earn up to 3000 extra sweatcoins with the daily bonuses. The first daily bonus is available immediately, but to unlock the other 2 daily bonuses, you must walk 1000 steps in a day. Next, you must watch a 30 second ad, per bonus, to receive a random prize from 0 – 1000 sweatcoins.
Sweatcoin now has a new feature which enables you to earn twice the amount of sweatcoins for 20 mins per day. This means you could activate it before going for a walk or run.
If you want to earn even more sweatcoins, you can upgrade your account to a higher level, which costs a certain amount of sweatcoins monthly, however you are then able to earn more monthly. The different account levels are below:
Mover (Price: Free) – Earn up to 5 SWC per day or 150 per month
Shaker (Price: 4.75 SWC) – 10 per day or 300 per month
Quaker (Price: 20 SWC) – 15 per day or 450 per month
Breaker (Price: 30 SWC) – 20 per day or 600 per month
Trouble Maker (Price: £1.19) – 50 per day or 1500 per month – Earn 2x as fast
The final way to earn some extra sweatcoins is via their referral program, in which you get 5 free SWC per referral.
What Can I Spend My SWC On?
As the app is based around walking and fitness, most of the available offers are based around nutrition, fitness, health and wellbeing, which I think is great. Although, other types of offers are available too.
On the app, there are five different sections of offers (see screenshots below):
Pay With Sweatcoins – A few different offers that change regularly, so make sure you claim the offer asap because some offers sell out too.
Sweatcoin For Good – This section enables you to donate your sweatoins to charities and good causes.
Digital Offers – This section has apps, services and membership trials, which are often free. 
Physical Products – You can purchase products from this section, but some of them are discounted and not free. 
Auctions – Use your sweatcoins to bid for high priced products, but just note that most winning bids are over 15,000 sweatcoins.