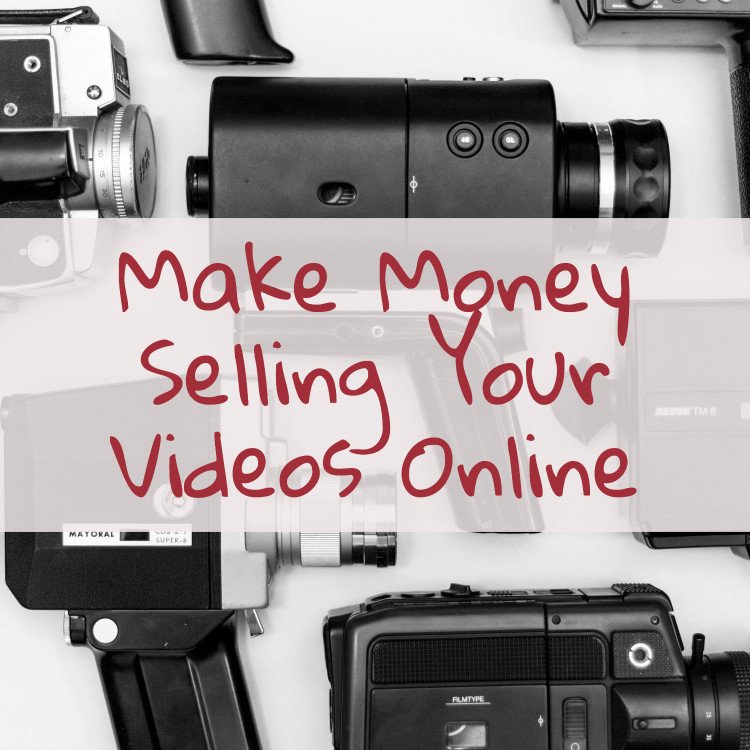 *This post may contain affiliate links, which means I may receive commissions if you choose to purchase through links I provide (at no extra cost to you). Thank you for supporting the work I put into this site!

Anyone can make a bit of extra money from selling their own video content, whether it's a video filmed from your phone, camera, or any other device. You don't need the best quality video and you don't need to be a professional in order to sell your home videos.
Everyone knows that a lot of money can be made if you are a successful Youtuber, which can be a full time job. However, if you have captured even just one potential video,  you have the chance to make some money from it. It could be a funny video, a wildlife enounter, an interesting moment, a video with the potential to go viral, etc. 
There are different sites that you can submit your videos to. You can then get paid for them videos if they are used or bought by other media companies. The sites I will be talking about below, includes Newsflare, You've Been Framed, LadBible/Unilad and ViralHog. Also, if you have just 100 YouTube followers or more, then you can earn revenue from placing your videos on YouTube and monetising them.  
Just beware that if you share your video on a site that distributes your video, such as Newsflare, you will not be allowed to upload it to another similar site. So if you were to upload your video to LADbible, you wouldn't then be able to upload that same video to Newsflare or Viralhog.
Always check terms and conditions before submitting a video to a licensing agency.
Selling on Newsflare
Newsflare is video licensing agency, which helps to distribute and sell your video content to well known TV shows, networks, and other worldwide media, including MTV, BBC, NBC, AOL, Yahoo!, LadBible, and many others.
Newsflare is basically like a video content database for potential buyers to look through and buy relevant content for their company. If a video sells, the money earned is split 50/50 between yourself and Newsflare. The amount you get paid, depends on the buyer. below is a screenshot of my  video sales.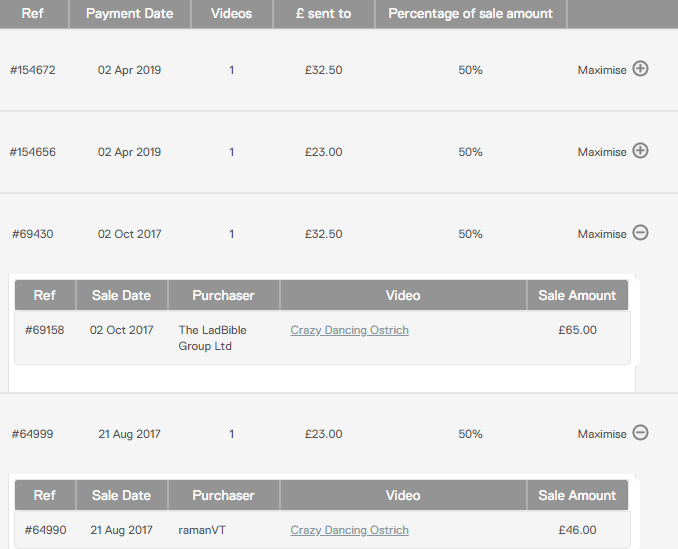 The really great thing about Newsflare, is that the money will be automatically sent to your PayPal account after a video has been sold. 
How much have I made from Newsflare?
Since joining Newsflare, my Ostrich Dancing Video  has sold 5 times, earning myself £346.50. I originally posted the Ostrich video on YouTube, but was then contacted by Newsflare, saying that the video had a good potential for selling on their site. I was a bit sceptical at first to allow Newsflare to manage the video, but I soon got a sale and received the money straight away. 
Make money by video tipping on Newsflare
A extra way of making money on Newsflare is by video tipping. To do this, you can recommended an entertaining video from the original filmer, which you have you found on social media. You can earn 50p for every tip that passes checks; another £3.50 if the video gets uploaded to Newsflare by the original filmer; followed by an extra £6 for the videos first sale.
YouTube Monetisation via Newsflare
When uploading a video to Newsflare, there is an option to upload directly or via YouTube. If you select to upload via your YouTube video then there is an option for Newsflare to manage the video on YouTube and monetise it. A benefit of monetising via Newsflare is their minimum payment threshold of £10, rather than YouTube's $100. As Newsflare is a YouTube partner, you can also benefit from video protection, which allows Newsflare to automatically find every copy of your video on YouTube and claim the advertising revenue.
How to get a £10 Bonus
If you join Newsflare via the button below, you will also get an extra £10 after you sell your first video. This offer can also be found on my Free UK Money Offers page, which features over £300 worth of free money and freebies.
You've Been Framed
So without doubt, if your from the UK, you will have heard of You've Been Framed (YBF), which is a long running TV program on ITV that shows compilations of peoples submitted home videos. The benefit of submitting to YBF is their high payout. If your video is accepted, you will get paid £250. I've tried submitting quite a few videos to YBF, with most of them being declined, including the previously mentioned Ostrich video. It can also take a while to find out whether your video has been accepted or not too.
Many years ago though, one of my submitted videos did get accepted, which involved my Dad hurting himself whilst flying a powerkite. Me and my Dad ended up splitting the money between us. It was pretty funny and exciting seeing it on TV though. The YBF clip of my Dad is shown below.
My advice would be to submit any potential videos to YBF, as well as Newsflare, just in case it gets selected.
Unilad/LADbible
So even though my Ostrich video was bought by LADbible via Newsflare, you can actually upload videos straight to LADbible. However, this may be very limiting, because it sounds like LADbible can use and exploit your video in any way they want. Newsflare will also prevent you from uploading the video to their site, which would block out a whole host of extra potential buyers. Furthermore, I think you only get paid their £100 offer price for the submitted video, if it is displayed as a stand alone video on their Facebook page.
ViralHog
ViralHog is another video licensing agency just like Newsflare. I haven't tried uploading any videos to ViralHog yet, so I am not sure whether there is better potential for selling on here in comparison to other licensing agencies.
One negative thing I found about Viral Hog is there minimum payout threshold of $75, therefore if you were to sell a video just once for less than $75, then you may never end up seeing the money.
So overall, I have made £596.50 from my own recorded and submitted videos. I hope this post can inspire you to look through your video library and get uploading to YouTube, Newsflare, and You've Been Framed, for the chance of getting some extra money. Good luck on your video sales :).